COAST TO COAST ROCK 'n' ROLL
ROCK 'n' ROLL DANCE LESSONS GOLD COAST, ELVIS IMPERSONATORS, SANTA HIRE
Being the holder of 14 Australian Dance titles & Australian & Asia Pacific Dance Champions, Peter and Lyn from Coast to Coast rock 'n' roll would love to share and pass on their expertise.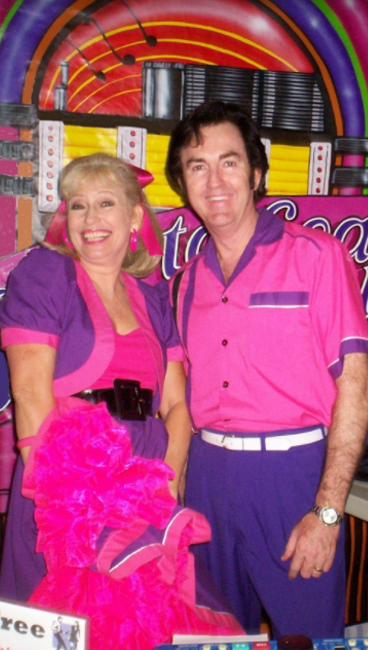 WHEN
Every Thursday night. Start 7.00PM and social till 10.00pm.
WHERE
Parkwood Arundel Community Centre. 175 Napper Road Arundel (Next to Arundel Primary State School, Right side). GPS Does NOT take you the correct place. Grey and White sign with the Community Centre on the footpath. "Opposite ARCARE". Drive right up that road/lane through the mesh gates till you reach the end and see the hall. About 300 mtrs from the road
INFO
The night includes line dancing and partner dancing PLUS Theme nights. It is BYO and yes the ladies do bring wine and nibbles.
BIT SCARED?
We DON'T teach you in front of all the other people. We take you to another section of the hall out of view.
OR >> We have a two DVD set of the full rock 'n' roll course available for purchase to learn in your own home.
SOCIAL OUTINGS
Come and have fun learning to dance and enjoy social outings like Mystery Car Trips, Boat Trips, BBQs, Camping, Australia day BBQ, Wine tours & Theatre etc. Get to meet new friends.
ROCK 'n' ROLL DANCE LESSONS GOLD COAST,
ELVIS IMPERSONATORS, SANTA HIRE